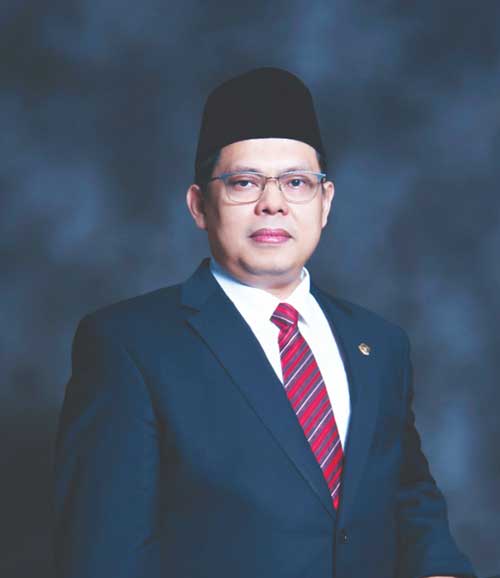 RIWAYAT JABATAN
Wakil Ketua BPK, Oktober 2019 s.d. sekarang.
Anggota II BPK RI, Oktober 2014 s.d. Oktober 2019.
Anggota III BPK RI, Agustus 2013 s.d. Oktober 2014.
Tenaga Ahli Bidang BUMN/BUMD dan Kekayaan Negara yang Dipisahkan pada BPK RI, Tahun 2012 s.d. Agustus 2013.
Dosen Sekolah Tinggi Akuntansi Negara, Tahun 1995 s.d. 2011.
Pendidikan Formal:
Doktoral Ilmu Pemerintahan – Universitas Padjajaran, Tahun 2015.
Magister Akuntansi Universitas Gadjah Mada, Tahun 2009.
Akuntan dari Sekolah Tinggi Akuntansi Negara, Tahun 2004.
Pendidikan Non Formal:
2018: Workshop Market Intelligence – Denhaag – Belanda.
2015: Institute of Internal Audit Conference – Brisbane – Australia.
2015: Institute of Internal Audit Course – Paris.
2014: Leadership Program Harvard Kennedy School of Government – Boston – USA.
2011: South Pasific Conference on Internal Audit (Institute of Internal Audit Australia).
RIWAYAT ORGANISASI
Member of United Nation Independent Audit Advisory Committee 2020-2022..
Board Member of Intosai Development Initiative (IDI) Norway 2020-2023.
Wakil Ketua Majelis Wali Amanat Institut Pertanian Bogor Periode 2019-2024.
Anggota Dewan Penasihat IAI periode 2018-2022.
Anggota – Association of Certified Fraud Examiner (ACFE).
TANDA KEHORMATAN YANG DIMILIKI
Bintang Mahaputera Nararya (Diberikan oleh Presiden RI pada Oktober 2014).
PRESTASI DAN PENGHARGAAN
Distinguished Acheivement Award – Association of Certified Fraud Examiners (ACFE). (Juni 2020)
Ketua Delegasi General Assembly ke-31 International Maritime Organization. (Desember 2019)
Pembicara pada The 3rd South East Asia Forum on Implementation of The Sustainable Development Goals, Bangkok, Thailand. (Oktober 2019)
Pembicara pada UNDESA IDI Joint Meeting on SAI Contributions to the 2030 Agenda and the Sustainable Development Goals di New York, Amerika Serikat. (Juli 2019)
Pembicara pada United Nations High Level Political Forum (UNHLPF) di New York, Amerika Serikat. (Juli 2019)
Pembicara pada Sixth Asia-Pacific Forum on Sustainable Development di Bangkok, Thailand (Maret 2019)
Pembicara pada The 7th INTOSAI Governing Board Meeting di Moscow, Russia. (November 2018)
Ketua Delegasi BPK RI dalam menghadiri The Executive Development Course: Digital Government for Transformation Towards Sustainable and Resilience Socities – The Singapore Experience di Singapura. (April 2018)
Pembicara dalam Symposiumon Building Effective, Inclusive, and Accountable Institution and Public Administration for Advancing The 2030 Agenda for Sustainable Development di Incheon, Korea Selatan. (Desember 2017)